Gabby Petito's death was a homicide.
The FBI confirmed Tuesday what so many of the 22-year-old Blue Point woman's relatives, friends and followers of her story suspected all along.
An autopsy positively identified the body found Sunday in a Wyoming camping area as Petito and found "the initial determination for the manner of death is homicide," the FBI's Denver field office said in a tweet.
Details were not given as to how she died: "The cause of death remains pending final autopsy results," the FBI said in its tweet.
Petito's boyfriend Brian Laundrie, with whom she had been traveling cross-country with this summer, remains a person of interest in the case, authorities said. Laundrie returned home to what was the couple's current home in North Port, Florida, without his girlfriend on Sept. 1.
Petito was reported missing on Sept. 11.
Laundrie has been missing, since at least Friday, having left his home Sept. 14 to embark on a hiking trip Sept. 14 nearby, and never returning, his parents told cops.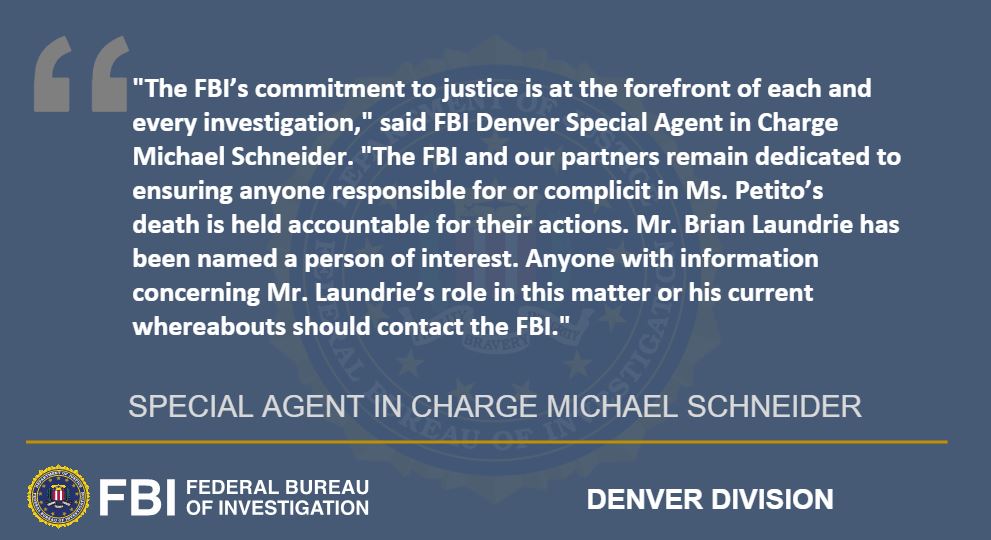 Petito's remains were found by investigators in the Spread Creek Dispersed Camping Area near Grand Teton National Park. Teton County Coroner Dr. Brent Blue conducted the autopsy. Initially, the FBI had described the human remains as "consistent with the description of" Petito, pending a full forensic examination of the body.
"The FBI is seeking information from anyone who utilized the Spread Creek Dispersed Camping Area between the dates of August 27-30, 2021, who may have had contact with Ms. Petito or Mr. Laundrie, or who may have seen their vehicle," FBI Denver tweeted Tuesday.
Laundrie and Petito, who both graduated from Bayport-Blue Point High School, traveled together this summer in a converted Ford Transit van in Utah and Wyoming. The couple were committed to living the "van life," and they broadcasted much of their journey on Instagram and YouTube.
Petito had not been heard from by family since August 25. The couple acknowledged to police on Aug. 12 that they had been fighting and that stress had built up from traveling alone for months.
Photo above story: Instagram / @gabspetito