A member of William Floyd High School's Class of 2021 has earned a full U.S. Army ROTC scholarship to Penn State.
Joseph Mazzarella, a four-sport student athlete and Student Government president, is set to major in supply chain management and minor in military science. Following his college graduation, he would be in line to be commissioned as a second lieutenant and begin serving an eight-year commitment to the Army.
"By serving in the Army, I would be doing something larger than myself and experience something unique," said Mazzarella, who last month graduated 22nd in his class. "This country has given me my freedom and the opportunity to pursue happiness in life, and I want to be a part of preserving those freedoms."
Mazzarella of Moriches maintained a rigorous course load throughout his time at William Floyd High School, taking advanced placement, honors and accelerated classes each year. Along the way, he played on the school's soccer, lacrosse and unified basketball teams. He even was kicker for the football team during his junior year.
Additionally, Mazzarella was in Student Government all four years of high school, serving as vice president and president during his junior and senior years, respectively. He was a member of the National Honor Society and the public relations officer of the history club.
As a junior, Mazzarella was a member of the Future Business Leaders of America as a junior, earning a spot in the state competition in the category "parliamentary procedure." And he was a member of the award-winning YMCA Youth & Government program, serving as the statewide presiding officer as a junior and a senior, with such duties as planning the conference, chairing the senate chamber and conducting parliamentary procedure.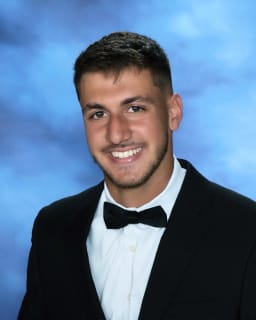 "From the first time I met him, it was clear that Joseph is a young man who is destined for great things," said Mazzarella's school conselor Kerry Brewer. "He has consistently proven to be a natural born leader who takes his responsibilities seriously. He is well-spoken, reliable and has a strong moral character. He is also highly motivated and intellectually gifted."
Robert Feeney, the longtime Youth & Government adviser, described Mazzarella as a "quality and gifted individual."
[Joseph is a] "bright, articulate and passionate debater able to persuade a chamber to his position … he has developed into a strong leader who has gained the support of his peers throughout the state, and who recognizes [in the context of governance] that it is important to build consensus in reaching decisions," Feeney said.
Mazzarella, whose father Jim was recently elected as a Suffolk County Legislator representing the 3rd District, credited his parents as being his biggest supporters. He also noted how influential William Floyd has been in his success.
"I can't express how grateful I am to have been a student at William Floyd and grown up in this community," he said. "It is a special place that I will forever hold close to my heart. Learning and leading in a diverse student body has shaped my character and perspectives.
"As a result, I am able to approach all people and all situations with an open mind and an open heart," added Mazzarella, who earlier this school year also received a nomination to the U.S. Naval Academy from U.S. Sen. Kirsten Gillibrand. He was one of only eight seniors from Long Island to be nominated.